Before we look at partitions, we need to see how CAD is used in n4ce.  Unlike previous systems from AiC Ltd, CAD is at the heart of many n4ce features, but does not control the UI or the database, being just another tool in n4ce's Geomatics Software toolbox.
CAD is used in:
Drawings using paper space and model space viewports, to create final presentations.
To embellish Models with tables, hatching and other detail, extracting points for Modelling.
For creating general CAD detail, including symbols and plotting sections.
n4ce is described as a "Field to Finish" package, which means you do not have to leave its environment to complete your work, including creating final presentation drawings.  If you export your survey into AutoCAD for completion, you will be missing many time saving features in n4ce.  Once exported, any changes you make there are NOT reflected in the original source data, and changes to the source data will not be reflected in the exported file.
n4ce CAD
CAD folders are held on the Project Tree and can come from several different sources, including AutoCADTM (DXF, DWG, DWT), AiC DOT files and OS MastermapTM GML files.  You can of course create a new, empty CAD folder.
When importing or exporting CAD folders, blocks in AutoCAD become symbols in n4ce and vice versa.  The main differences are that blocks can have elements drawn on multiple layers.  These are flattened onto one layer in n4ce symbols.  Symbols can have an origin and up to two additional handles.  These additional handles are lost when converted into a block.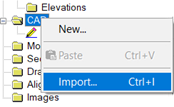 When importing AutoCAD files, you will be expected to provide a scale and units.  Architects generally work in mm, so we need to convert this into m by setting the units to mm.  Since AutoCAD defines text in ground units and n4ce uses mm at specific drawing scales, you must also specify drawing scale, otherwise text sizes will be wrong.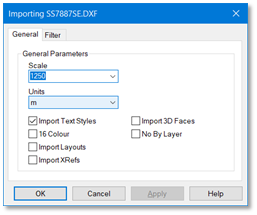 If a CAD file contains a DTM, this can be imported into a Model to create the DTM as found in the source package, bypassing the need to extract points from CAD features, to generate a new DTM.
A Filter option has been provided for importing historic OS Maps, where the layer name is none descriptive, changing it from G80010001 to Building Layout.  Further tools allow the changing of element colour and line style for individual layers.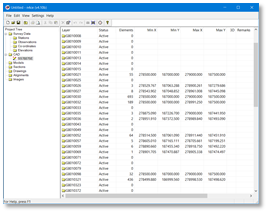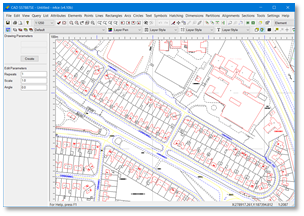 CAD folders can be viewed in two modes.  Firstly, as a list of layers in the display window, or within the graphics environment.  Editing tools are available in both views, including copying and pasting of selected layers.
Each Model contains a special overlay called the dedicated CAD backcloth.  This is where none survey, or model detail will be drawn, such as curve fitted contours, tables hatching and sections, if required.  Access is through the pencil icons .  This acts like an overlay, sharing the layering and linked viewing.  If the model and dedicated CAD windows are open at the same time, zooming into one will automatically zoom or pan to the same location.  This is called synchronised zooming.
Plotting Sections in CAD
Sections can be created at different locations within n4ce, including section volumes, river sections, radial sections used in visibility and section taking tools.  These can be single or multi-profiled, long or cross.
Once created, sections profiles are stored on the project tree and can be previewed.  This preview can be queried and displayed with different parameters, including drop lines, nodes, height differences etc.  Its live!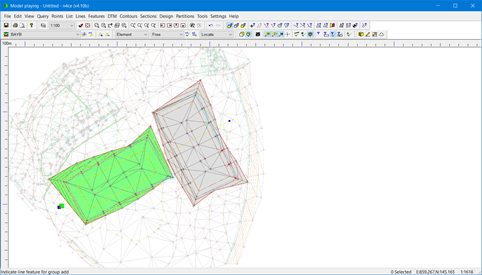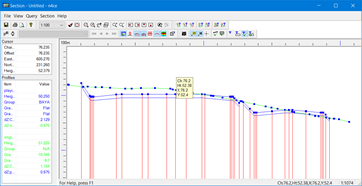 Sections are plotted in CAD (model space), or a Drawing (paper space).  Plotting options contain user defined parameters, including areas and height difference between different profile surfaces.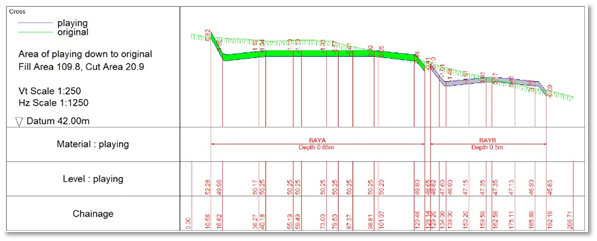 n4ce Drawings
This is where n4ce provides tools for final presentations.  The interface for this is the same CAD environment used for plotting the sections, seen earlier.  You draw in units of m, to the paper size chosen A0 (1.189x0.841), A1 (0.841x0.594), A2 (0.420x0.297) etc.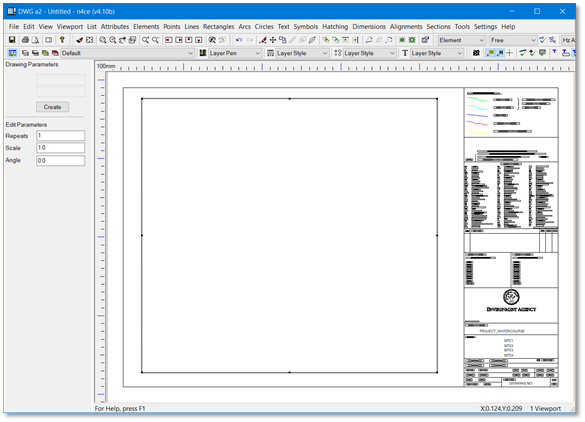 Users can create pre-defined Drawing Templates, that contain title boxes, legends and north points drawn in paper space.  Sections, tables and other CAD detail can be drawn in this space, but its more likely that you would want to plot your survey and see your models with contours etc., in model space.
Here we use a concept called a View Port.  This is a "window" onto the project, which allows you to plot detail in model space at a nominated scale.  It is possible to combine CAD, models, alignments and/or images as overlays.  Multiple view ports can be added to a drawing, which can then be moved or resized using the notches on corners and mid sides of the greyed border.  Any changes made to the original source data chosen for the viewport, will be updated automatically in the viewport.  This also applies to layering.
Selection detail to be shown in a viewport, is controlled using Viewport Settings.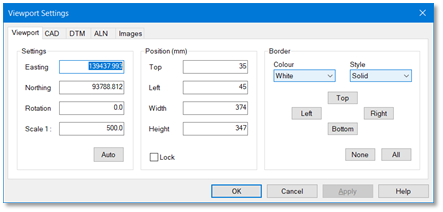 Here, you would choose CAD, DTM, ALN or Images to be overlaid, but making sure you press the Auto button to centre the chosen detail, otherwise it may miss the viewing window!  Detail can be nudged in the viewport, whilst keeping the window in its chosen location.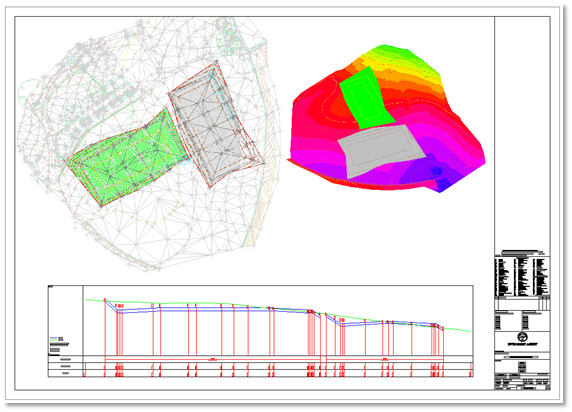 Here we have a final presentation drawing with a viewport showing two models, one of which is lightened, a section drawn in paper space and an image taken from the 3D viewer of both models.  This can be printed and/or exported to AutoCAD.  Multiple viewports are possible, so another option would be to plot the section in CAD using model space, then include this in its own viewport.
n4ce Partitions
Whilst overall project plots, as seen above, are possible and a viewport can be used to zoom into specific detail at a larger scale, Partitions provide yet another option, allowing you to use a predefined Drawing as a large-scale cutting template creating single or multiple Drawings, with their own predefined title box and notes.  But first, a Drawing Template must be created with a single empty viewport, at a nominated paper size.
Here we will use an A1 Drawing, adding an empty viewport.  The scale is defined later, at the time of locating the partition.  Single or multiple partitions can also be created.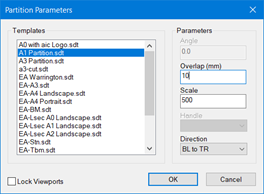 The locating handle and direction is identified first, and here we use bottom left to top right.  We will also use a 10mm overlap.  Partitions can be created either in a Model or CAD.  Here we will use a CAD example.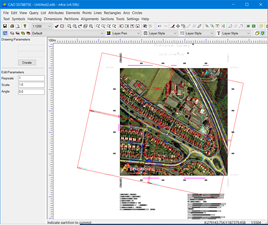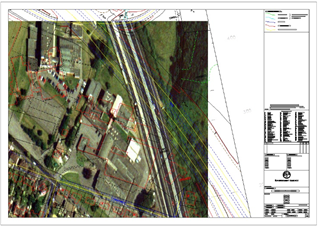 The image above on the left is the original CAD folder at a scale of 1250, on the right is a Drawing automatically created and stored on the project tree.  This is the top right cell at a scale of 500.

Everything is live, so any changes to source data will automatically update these images.  If the image position is moved in the Drawing, the outlines of the Partitions in the Key Plan will also move.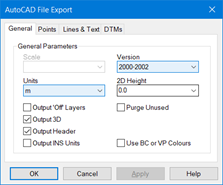 Export to AutoCAD will also pass across Model and Viewport detail, as shown below, noting tabs provide access to viewports.