Creating and use Coordinate Blocks
When starting with existing CAD plans we will first need to generate Points From CAD as this will create useable 3d coded points. We can do this by backclothing the CAD data within a Model and selecting Points --> Generate From... For more information please see the following link: https://help.appsincadd.co.uk/hc/en-us/articles/360002481538-Generating-Points-From-Lines-Symbols-Contours-Points-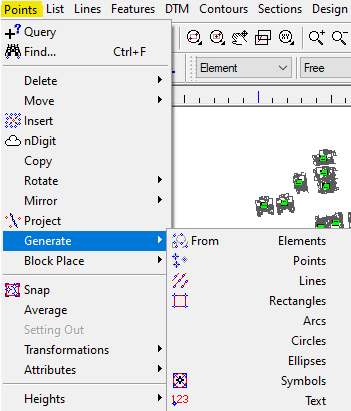 Note: Please ensure that the Cad data has been exploded.
Once Model points were generated we can now start creating the Coordinate Block. To do this we now need to add the Points to the List, this allows n4ce to know which points you would like to include within the Block. Select List --> Inside --> Rectangle. Other List picking methods can also be used such as "indicate".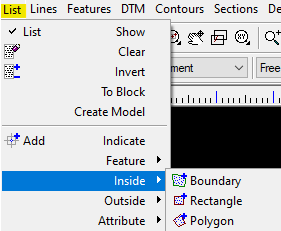 Following this we can now select List --> To Block. Select the Origin Point followed by the Alignment Point as shown in the image below.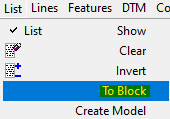 | | |
| --- | --- |
| | |
| Origin Point Selected | Origin and Alignment Point Selected |
To place the Coordinate Block in a model can be done via the Points --> Block Place.
1 Point: Allows you to simply specify the origin for the points.
2 Point: Allows you to specify the origin and an orientation for the points.
3 Point: Allows you to specify the origin and orientation for the points together with a third point specifying the side to which the points will be created.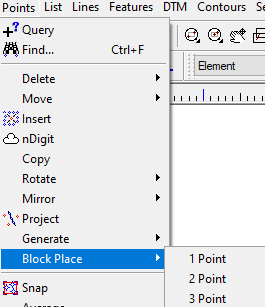 Once we have selected the insertion method we now need to tell n4ce how it should generate the heights for each point. In this case, I am going to use Assigned.
Assigned: Places the Block using the heights already allocated to each Point.
Typed: All of the points will use the same height which is specified within the Heights Field in the image below.
Relative: Uses the Assigned Point Heights with an offset value chosen from the Delta Field below.
Origin Lock: Uses the height difference between the block origin and the indicated origin point as a relative offset for all the new points.