In n4ce 4.30 a new feature has been added which allows you to drag and drop a PDF file into n4ce and a CAD model will be created. This then allows you to start generating points from CAD.
Note: Images are currently not supported.
Importing the PDF
Start by opening an n4ce project, drag and drop the PDF file into the main window of n4ce. The PDF preview window will now appear.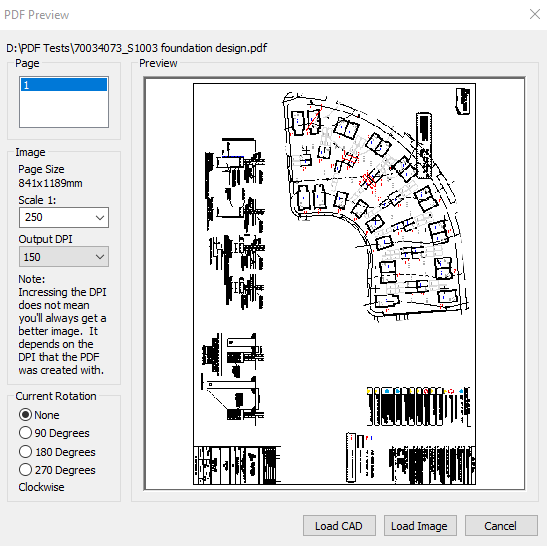 Page: This allows you to select which page from the PDF you would like to import.
Scale: This option allows you to correctly scale the drawing when it's being imported.
Output DPI: This is the amount of Dots per Inch. Increasing this does not always mean you will get a better image as this depends on the PDF resolution.
Current Rotation: This allows you to change the rotation that the PDF will be when imported. Please Note: "None" is the rotation of the preview image.
Save Image: This allows you to save the PDF to an image. Please check the DPI settings before this.
Once the correct settings have been selected please press Load CAD. You will now see a new CAD Model named the same as the PDF.
Transforming the CAD Model using Values
Open the new CAD model and Press Tools --> Transformation --> Values. As we are using the distance between three known points ensure that the lock mode is appropriate so the transformation is accurate and the correct points have been indicated. Click on the three points and a new window will appear.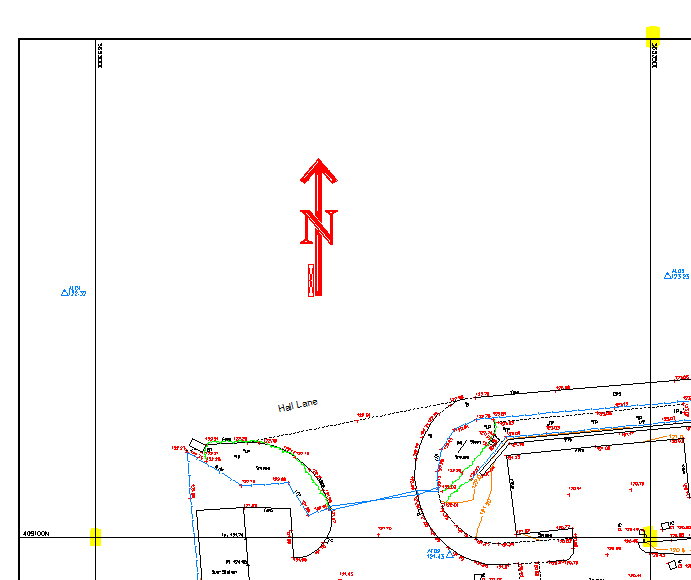 Note: The highlighted zones are from the grid however they only need to be three known points.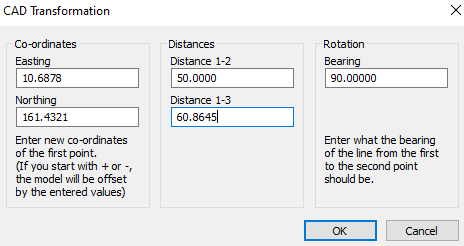 Please Note: If the distance between 1-2 is the same as the 2-3 then the Distance 1-3 box will be blank.
As shown in the image above we need to change the distance to the known distance between the first two indicated points, in my case this is 50m.
In addition to this, we also need to enter the coordinates of the first point so it's in the correct coordinate space.
Finally, enter the correct Bearing so it is rotated correctly and press OK.
Transforming the CAD Model using Co-ordinates
Open the new CAD model and Press Tools --> Transformation --> Co-ordinates. You will now need to select 2 or 3 knows points. Ensure to use the correct locking modes when selecting these known points. Once the points are selected right-click and a new dialogue box will appear.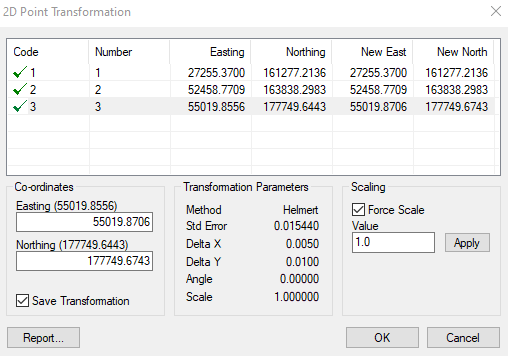 As the new Co-ordinates have been entered you will see the transformation parameters change as the points are being derived. You can double click on each point to see how it is affecting the results.