The Calculate Point option allows you to create a section using a series of points from the current model.  This is like the section from features except that you must indicate each point in turn.  Note that the points are used to calculate the profile and so the triangles and features of the current model are not considered.  You can create profiles from other models in the normal way.
When selected, the property sheet asking you to define the section will be displayed.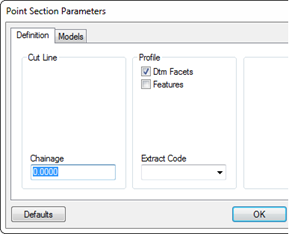 The Definition page allows you to define the position of the section cut line.  The two data groups to the right of the page are empty when calculating point sections.
The Chainage field allows you to define the start chainage of the section.  When sections are calculated, only the offset along the cut line is stored.  When plotting the section, you may wish to specify a chainage value which will be added to the offsets.  If the first indicated point has a chainage dimension, CHN=, this value will be used to override any value in this field
The setting of Extract Code combo box has the same effect as that for feature sections and has already been described above.