Elevation models can be generated from the points of the model.  It could be that your survey is a section through a river and you wish to have a quick look to preview the section.  An example of such a survey is shown below.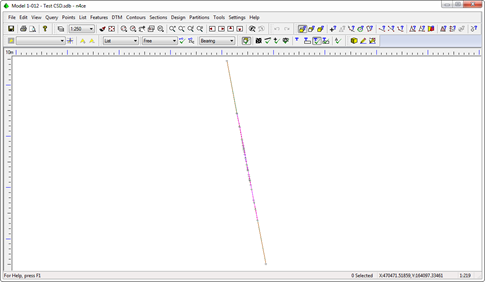 The Elevation Create option will take the current model and turn it into an elevation model.  You will be asked to indicate two points which represent the base line for the elevation.  In the example shown above, these points are at the top and bottom of the model.  After the two points have been indicated, they are used to calculate the angle through which the model needs to be rotated.  This will make the points in an approximate horizontal line.  Once rotated, all the points have their northings and heights swapped to create the elevation.  The elevation created by the above data forms a simple three arched bridge over a watercourse as shown below.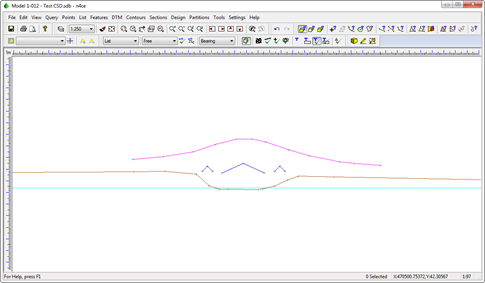 The Elevation Base Line option allows you to turn the current model into an elevation using a line feature.  You will be asked to indicate the line feature to use and n4ce will take the first and last points on the feature to create the elevation transformation.
To return the model to the original plan view, you can use the Elevation Reverse option. After the transformation to the elevation has taken place, a new point will have been inserted as the first point in the model with a code of ELEVATION.  If this point is deleted from the model, the elevation cannot be reversed.  This point will have been copied from the first point indicated to create the elevation and it contains a dimension value which is the angle about the first point through which the survey was rotated.  It also has a remark as shown in the example below.