This article will go through the different file types which cad be imported into n4ce CAD.
To import files into cad please right-click the cad folder and select import. A new window will appear where you will need to locate the file and select Open.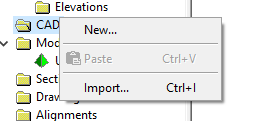 File Types which can be imported:
AutoCad DWG
AutoCad DWT
AutoCad DXF
AIC DOT File
OS MasterMap GML File
Google Earth KML File (These will be layered by element type).
PDF (n4ce 4.30). This can be done by dropping a PDF file into the main window.
Note: Google KML files can only be imported into cad from n4ce v.20c and above.
When importing Autocad files if there are duplicate Symbols then this window will appear: