You also have the option to display slope indication arrows. For each triangle, these arrows
represent its slope and direction and are useful in identifying low points for drainage design. The
settings for this are accessed using the DTM Slopes option from the Settings menu using the
dialog box shown to the right.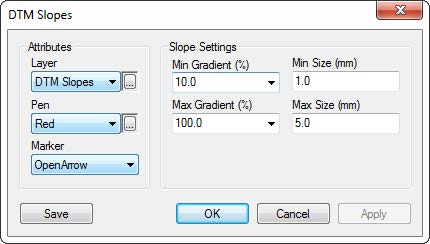 The Layer and Pen fields allow you to specify the basic attributes for the slope arrows. The Marker field specifies the marker that is to be displayed and can be either an open or a closed arrow.
The Slope Settings group allows you to define the relationship between the size of the slope arrows and the gradients of the triangles. The Min Gradient and Max Gradient fields define the minimum and maximum gradients that arrows will be plotted for. If the slope of the triangle is outside this range, no slope arrow will be plotted. The Min Size and Max Size fields define the size of the arrows at those gradients. If there is a gradient between, the arrow size will be interpolated. The arrow itself will be plotted at the centroid of the triangle to which it relates.