The Areas Contours option allows you to calculate the DTM triangle plan areas enclosed by a set of contours. The area that is actually calculated is the area of the DTM triangles that are at or below the value of the contour.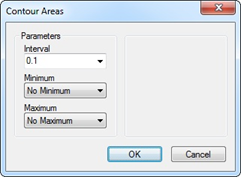 When selected, the dialog box to the right will be displayed. The Interval field allows you to set the interval at which calculations should take place. If you are only interested in a certain range of heights, for instance, that of a pond, you can set minimum and maximum contours for the calculations. The default values for these fields state that there are no height constraints and that the calculations will take place across the whole model. If you change the interval, the values in the drop lists for the Minimum and Maximum fields will be reset. Therefore, you should set the interval before setting the limits if they are required.
After the calculations have taken place, a summary dialog box showing the results is displayed. The values in the Area column are those areas of the thin strips between the upper and lower contours. The values in the Cumulative column are the areas of the model where the height is at or below the upper contour. There are also check buttons enabling you to display the results in a report window or to create a table of results in the dedicated CAD backcloth.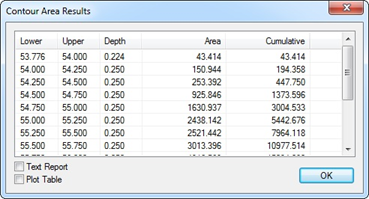 The contours areas table dialog allows you to control which elements of the table are displayed. The lower and upper contours and the band areas are always displayed. The two check buttons allow you to plot the contour band depth and the cumulative areas columns.