Note: Before installing the n4ce 4.20a patch we recommend that you have disabled any anti-virus software you may have enabled.
New
A new setting in the Display Options dialog allows you to set the zoom factor for the spreadsheet views before you have created a table.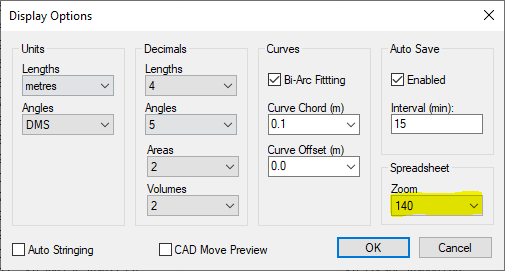 At the top of the Points / Heights or Number or Codes etc... menu, a new option is available to select whether annotation hover takes places when editing annotation.

New button in Code Prefixes Dialog to allow you to clear all existing code prefixes, except "Default".

New button in Layer and Text Style defaults to allow you to clear all existing layers/styles.
Improvements
Annotation hovering now improved to highlight all the annotation about multiple points that can be picked when hovering.

Improvements to design line dimensions where chainages already existed, the option to not overwrite is given.

The options to set the horizontal and vertical defaults for alignments were not available in the alignment view.

When removing points from a DTM, they are now flagged with the X comma code to exclude from future modelling.

A new button called purge in Group defaults to allow you to clear all existing group definitions.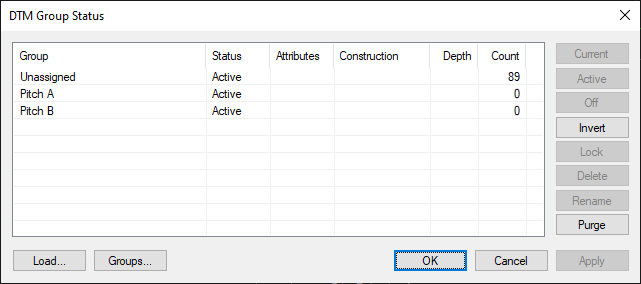 There is a new tick box under the Licences tab of the N4ce Licence Manager that hides expired licences.
Bug Fixes
When committing parallel features when creating a model, if there is a height difference, some point heights not correct.

Aligning annotation to its own line feature string may have caused a crash.

In some instances, formatting to DDD.MMSS failed and produce 15.5960 instead of 16.0000.

The N= dimension to change the code along a line was not working correctly and could cause a redraw to hang.

The settings for must lock and 3D lock modes could not be turned on or off.

When exporting codes to Leica XML for upload, code prefix was not exported in the correct place.

The option to create an elevation from a Set-Up or Survey was disabled in the survey view.

The Auto button when editing viewport settings would report a bad command in either Pro or Lite.

Excel reports were not working due to a new setting in a defaults file.

When importing Leica DBX where the setups have been split during logging, free codes may not have worked.

Moving NULL point heights by interpolating to another DTM did not work.

When trying to import data using the Trimble Link Engine, the incorrect dialog was displayed.

The use of threads with small data sets caused a hang because the function was completed before all the threads started.

Going to full screen in the Ribbon Bar version on a Drawing would have caused a hang.

On computers with the Windows Scaling set to over 150% the 3d Viewer could of crashed when opened.