To calculate the 3d position of a setup, two or more observations are required to known stations. If this is the case, a resection or free station calculation can be carried out to determine its position. Having right clicked the unknown Setup, select Free Station. A dialog similar to that below will be displayed.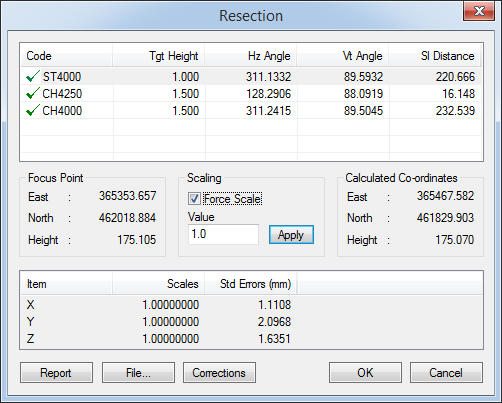 The first part of the page displays the resulting averaged readings (if there are multiple observations), together with a green tick to indicate if the reading is being used in the calculation.  By double clicking the green tick at the start of each row, a reading can be discluded, or re-included from the calculation to test the suitability of a reading.  In doing so the resection will be updated so the errors can be re evaluated.
In the special case where surveys can be tied into an existing system, and at least 3 known points can be observed, then a Free Station or Resection calculation can be used.  This is a Least Squares "Best Fit" solution using all the available data.  If both distances and angles are measured then a solution is available with 2 points.  Alternatively, if only angles are measures then 3 points must be used.
The option to force the scale factor is controlled by the the Force Scale check box. By default the least squares algorithm calculates the scale factor for you and adjusts the distances between the stations. By forcing the scale factor to 1, you can preserve the distances recorded between stations during the initial survey.
Use the Report and File buttons to display a detailed report of the calculation or save it to disk.
Press Ok or Cancel to save or abandon the coordinates.  If you accept, the new station coordinates will appear in the Stations folder, ready for reduction or other calculations.