The Object Station option allows you to query any stations that in the project.  This option will only be available if the display of stations has been turned on.  After you indicate the station with the graphic cursor, the Survey Station Properties Dialog Box shown below is displayed.  This is similar to that for a point with one or two changes.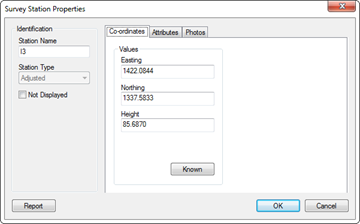 The Station Name field displays the name of the query station.  The Station Type field shows how the station was calculated and cannot be changed.
The Not Displayed check button allows you to hide a station.  If this button is checked for a station, it will not be displayed in any graphic window and it will not be added to any table of stations that is plotted.  Also, in the spreadsheet view of station co-ordinates, the text "(Hidden)" will be added in the Type column.
In the Co-ordinate page of the property sheet, there is also a button labelled Known.  This is only enabled for stations that have been defined as fixed, derived from observation reduction, calculated from a traverse adjustment or calculated from a least-squares adjustment.  If the station is one of these types, the edit fields for the co-ordinates are read-only and cannot be changed.  If you wish to override this, use this button and you can then make changes to the co-ordinates.  If you do this, the station becomes a known station.
The Attributes page is similar to that used for a point with the exception that the Dimensions field is not available.  The Photos page is the same as that for querying a point.