Some of the attributes of each point can be displayed as point annotation text where the text can be extracted and formatted. The items of annotation that can be displayed are the point height, the point number and the point code, which does not include any comma codes attached to the point.
Control of the display of these items is handled using the sixth, seventh and eighth pages of the code prefix property sheet. These are called Height, Number and Code and an example of the Height property page is shown below.
Height, Number and Code all have the Prefix and Suffix options and are also affected by text macros.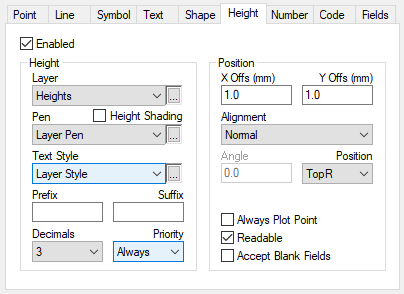 Generally, the fields perform the same purpose as those for feature text with a few exceptions. The Prefix and Suffix fields are available for all three types of annotation and these allow you to add additional text before and after the annotation item. For instance, when displaying the level of a manhole cover, this may be formatted as CL19.683m by entering CL in the prefix and m in the suffix.