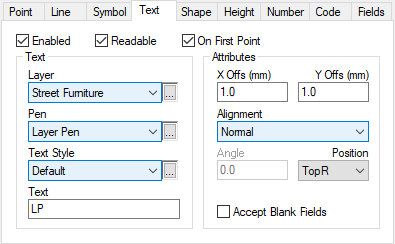 The fourth page of the code prefix property sheet is Text an example of this type of annotation would be LP next to a lamp post or a Trees species, spread and truck diameter etc.... A text feature is simply a string of text that is usually displayed in conjunction with another type of feature. For instance, it can be used to identify whether a post or pole is a telegraph pole, a lamp post or any other circular shape feature. The fields in the page allow you to define how any text strings that are required for a feature using the current code prefix are displayed.
The Enabled check button allows you to specify whether a text string will be displayed or not. If it is ticked, a text string will be displayed using the parameters in the dialog. If not, the items in the property page will be disabled.
The Layer, Style and Pen fields define the graphic attributes that are used to display the text. The Readable check button can be used to ensure that all text is readable when reading from the bottom right of the model. If text would be displayed upside down, it will be rotated through 180° about its center point before being displayed. If the On First Point check button is ticked, the text will only be displayed next to the first point of the feature.
The Text field defines the text that will be displayed. If a point using this code prefix has a Text dimension, normally T=, the value in this dimension will override the contents of this field. This can be useful where you wish to place a piece of comment text at a given point in the survey or model. For instance, this can be used to indicate the material of an area or the name of a building.
Accept Blank Fields
Accept blank field allows n4ce to render attributes on the same line though one of those attributes may be missing. This screenshot displays it before anything has changed.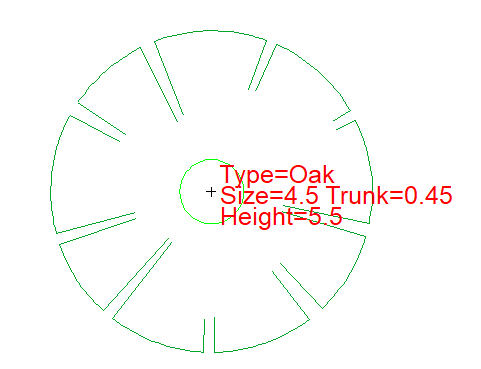 If however the Trunk radius attribute were missing, then the following would result if "Accept Blank Fields" is enabled. This assumes there is no default for the radius assigned to the code in the Fields tab.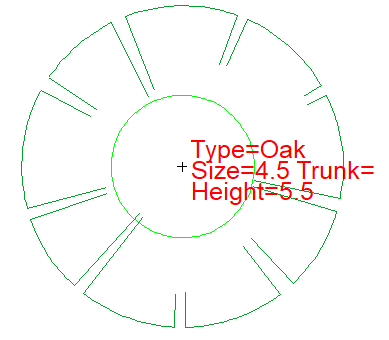 The alternative is disabling "Accept Blank Fields" so that the entire line is removed...
For more information about Text Macro visit this Article https://help.appsincadd.co.uk/hc/en-us/articles/360013320812-Text-Text-String-Macros