The 3D viewer used in n4ce allows visualising of data in all three dimensions (XY&Z). In its simplest form, data generated in n4ce models can be viewed, including DTMs, Groups, Feature Strings and Points as shown here (Lite Edition).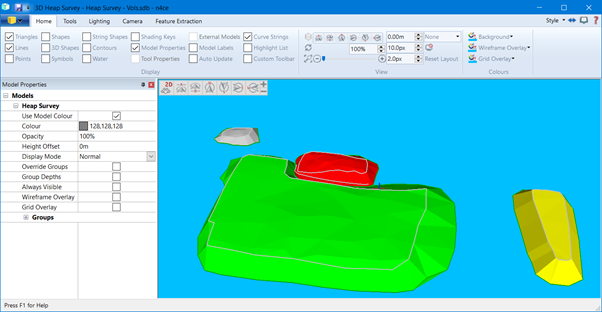 3D Viewer – Lite Basic
Pro & Des Edition users have extended functionality. In fact, this is the user interface for all things to do with point clouds, including digitising features, creating gridded models and data filtering.

3D Ribbon Bar – Pro&Des Point Clouds
The 3D view has been written to take advantage of code and memory available on the graphics card, making for fast responses and handling of large data sets. We recommend high-quality graphics cards with dedicated memory and of course using the latest graphics card drivers.
When using the n4ce 3D viewer several user defaults are stored and updated during usage. These can be found in a support setup area.
"C:\ProgramData\Applications in Cadd\n4ce\Settings\3DViewer.xml"
This file can get corrupted, causing the 3D Viewer to crash. Simply delete or rename the 3DViewer.xml file and the next time you open n4ce a new default file will be created with "Factory Settings".
Note, if you cannot access this area it's possibly due to your Explorer settings.

ProgramData Folder
In Explorer select File->Change folder and Search Options.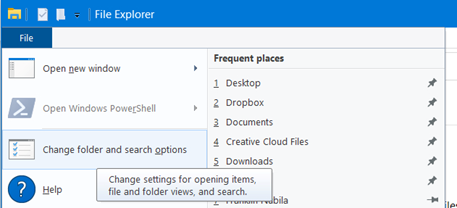 Explorer Changing Options
The following Dialog appears. Select the View tab and change the options to those as shown below, especially Show Hidden Files, Folders and Drives and Hide Extensions for Known File Types.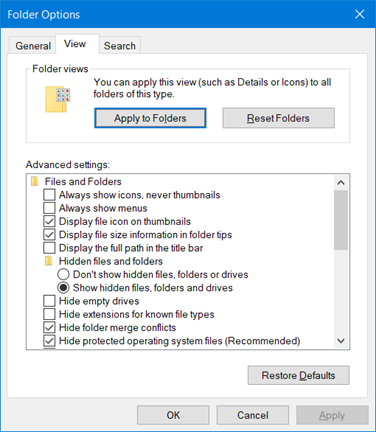 Viewing Options
As already mentioned, a good graphics card and memory is vital as is onboard memory. A high specification computer is vital for anyone wishing to process large point cloud data sets. The following is a minimum recommendation.
Window 10, 64-bit operating system
I5 or better CPU
16Gb+ RAM
NVIDIA or ATI graphics card with 2Gb+ VRAM
SSD or NVME hard drive
Twin screens (optional)
Whilst "off the shelf" computers can be used do not expect a Ferrari performance from a family saloon. Your computer may be the cause of crashing – not being up to processing your data!