Almost all Text reports in n4ce can be saved to Excel spreadsheets. The list of reports that can be exported in this way includes...
Traverse and Reduction
Prism volumes
Prism volumes with groups
Prism volumes with groups and regions
Datum volumes
Section volumes
Once a report has been displayed, the report window will display an Excel icon in the toolbar if it is suitable for export.

Pressing the Excel icon will open a save dialog so that the spreadsheet file can be given a name.
To setup the various styles however, select Excel Settings from the File menu.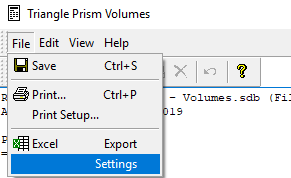 After a moment the styles dialog will be displayed.

Use this interface to control the various styles that are used to format the report. Once the changes have been made, click Save & Exit, before testing the result of the changes by saving the report as an Excel spreadsheet.