This process is completed using the n4ce Licence Manager (n4ce icon with yellow key)

PLEASE NOTE: BEFORE TRANSFERRING A NETWORK LICENCE, PLEASE ENSURE ANY DETACHED LICENCES ARE RETURNED AND ALL LICENCES ARE PRESENT PRIOR TO STARTING THE TRANSFER PROCESS!!
1. Open the n4ce Licence Manager on the TARGET PC and use the Create .ID File button to generate a fingerprint file for the intended target.
Transfer this .ID file to the PC which is currently running n4ce.
2. Select the licence to be moved from the Product list provided and click the Open .ID from TARGET & Detach Selected Licence to create H2H button, to create the Host to Host (H2H) file. This binds the licence to the fingerprint file, detaches it from the current PC and writes the H2H file out.
Transfer the H2H file to the Target PC.
3. Use the Open H2H from OLD PC & Re-host Licence button to add the licence to the licence engine of the Target PC.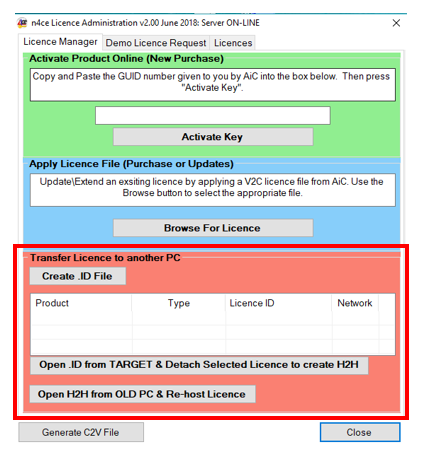 That completes the re-hosting process.
4. To use the licence, go to the Licences (Software KEYs) Tab and double-click on the licence that has just been transferred to your PC.

Alternatively, you can highlight the licence in the list and click the Set n4ce to Selected Licence button.

Should you receive this error message, it means that n4ce is running or a Network n4ce licence is in use.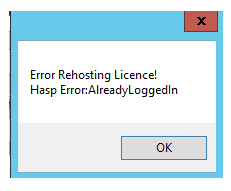 You will need to close all instances of n4ce before removing the licence.
Our article "How to transfer all n4ce settings from PC to PC" may also be of use. Click HERE to view it.