This process is completed using the n4ce Licence Manager (n4ce icon with yellow key) 

Firstly, install the n4ce software separately on the target machine.  
Open the n4ce Licence Manager on the target PC and use the Create .ID File button to generate a fingerprint file for the intended target. 
Transfer the .ID file to the PC which is currently running n4ce. 
Select the licence to be moved from the list provided and click the Open .ID from TARGET & Detach Selected Licence to create H2H button, to create the Host to Host (H2H) file. This binds the licence to the fingerprint file, detaches it from the current PC and writes the H2H file out.
Transfer the H2H file to the Target PC and use the Open H2H from OLD PC & Re-host Licence button to add the licence to the licence engine of the Target PC.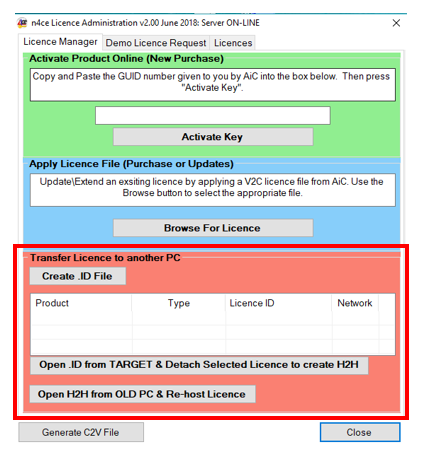 That completes the re-hosting process.