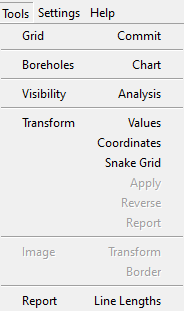 Grid Commit: Generates a user-definable grid inside a selected area or viewport. Click here for more details.
Transform Coordinates: This option allows you to use 2pt or 2D transformations depending on how many points are being used.
Transformation Values: This option allows you to select one or two points and then enter what the co-ordinates of the first point should be.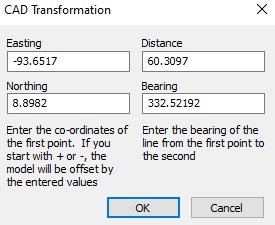 Boreholes Chart: Click here for more info.
Visibility Analysis: This is a quick tool to shades zones of visibility using radial sections to calculate what is and what is not visible. Ideally for this tool to work and plot a dense pattern the radial sections should be taken at least 1deg apart.

Having selected this option you are presented with a list of radial section databases. Pick the one which relates to the visibility zone to be calculated.



The Visibility Parameters dialog then has two variables:


Origin Level: This is the ground level the sections emanated from. To make the process render "What can be seen from here", add onto this value a suitable eye height and leave the Height Offset at 0.
Height Offset: This is the height appended to the last position on the section. If this is left at zero, and an eye ht offset applied to the Origin, then the analysis is "What can be seen from the origin" If however an offset is applied to this value and the origin left at 0, then its a "Where can the origin ground level be seen from"

Once the parameters have been accepted, the plot will be generated. Yellow is Visible, Red is Hidden


So essentially this tool shades two possible situations.

Where can i see this point from
What can i see from here



Transform
Image Transform: This option moves a given Image in a backcloth by clicking on two locations within the image, and then providing new coordinates for the identified points. The image will currently only be shifted and or scaled.

It will not rotate the image

.


Image Border: Plots a CAD polyline around the extents of the image in the backcloth. Useful when inserting georeferenced images into CAD systems which do not load the projection files to place an image into the correct coordinate system.