The Generate options are designed to enable you to turn 2D or 3D CAD elements into a feature model which can then be used for setting out or volume calculations. Because CAD models are made up of simple graphical objects such as lines and arcs, they have no mechanism for storing the intelligent data needed for modelling, such as codes and dimensions. When selected, the pop-up menu below will be displayed. This gives access to the tools that enable you to turn dumb CAD data into something more meaningful.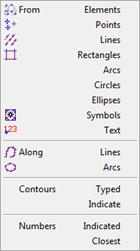 The CAD data that you will be creating points from should either be contained in the current backcloths to the model or in the dedicated CAD model associated with the current model.
When dealing with large CAD models, you should minimise the amount of data that is displayed. Turning irrelevant layers off does not just mean that refresh speeds improve, it also means that the points will be created faster since there is less data to search. Also, you remove the opportunity to create incorrect points from irrelevant CAD data. The use of layer status can also be used to great effect where a CAD model is well structured. In such cases, all the line work relating to building outlines will be placed on one layer with nothing else. Turning all other layers off allows you to create feature strings for all buildings in one operation.
When you select one of the From options from the point generation menu, a dialog box similar to that shown below will be displayed. This enables you to refine the points that are generated.