Snake Grid transformations have recently been introduced in n4ce v4.30. The Snake Grid allows n4ce to apply the same scale factor across a large model.
Using Snake Grid
To apply the snake grid, please open a Model and select Points --> Transformations --> Snake Grid and a new window will appear.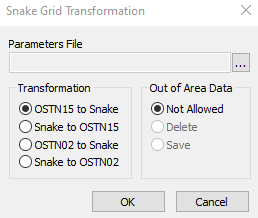 .dat file
We first need to specify the .dat file. To do this select the three-dots and choose the file within the file explorer. The .dat file expresses all of the essential information about the Grid.
Transformation
Next, we need to choose the original source Co-ordinate space so the transformation can be calculated correctly. In this case, I am going to use OSTN15 --> Snake. The opposite can be applied to reverse the transformation back to the original Co-ordinate space.
Out Of Area Data
The Out Of Area Data is where the Snake Grid transformation did not have an output for the data due to the Dat file.
Delete: Removes the Out of Area Data
Save: Saves the Out of Area Data into a Co-Ordinate Block with the name "Out Of Area" and the name of the other Model/Co-ordinate block.